You must allow cookies and JavaScript for a proper shopping experience.
Price: $15.00
Publisher: Hamilton, Illinois, Dadant Publishing : 2007
Seller ID: 19746
Binding: Soft Cover
Condition: NEW
---
Crisp, BRAND NEW book, written in Spanish, translated from English. Printed on heavy glossy paper and abundantly illustrated in color. New edition of Dadants 1917 classic, First Lessons in Beekeeping, completely rewritten with updated contemporary information including the latest in apicultural research and beekeeping management and techniques for the 21st century. Also includes the addition of a glossary and a good index for fast reference. 173 pages.
View More...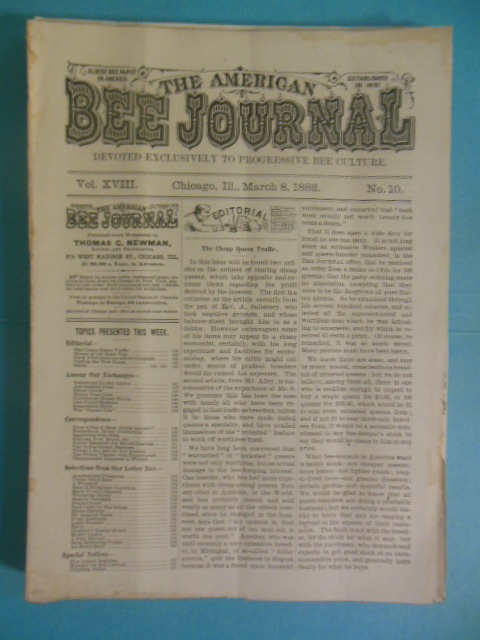 Price: $30.00
Publisher: Chicago, Illinois, Thoms C. Newman : 1982
Seller ID: 23758
Binding: Soft Cover
Condition: Good
---
Oh, how I wanted these! There were 20 altogether, but half of them were too awful to contemplate. The ones I bought are not going to be given tiaras for beauty, but at least they're only reasonably flawed. What makes them flawed are these things: partial spines required archival tape of five issues; a chewed lower edge of the front cover of one and to the lower right corner of another; a small bit of fairly light foxing and damp staining somewhere on each. There's also some vertical creasing, but I am going to iron them ASAP and put them in the book press overnight. There are many topics, incl...
View More...